Company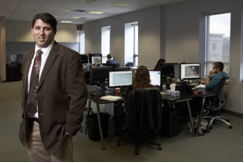 4DM is a company of people, passionate about applying mapping technology to provide clients with the information they need. We collect and build data sets, analyze and visualize information, and quantify and summarize the content to provide knowledge to our clients. As a geospatial information technology company we are technology centric combining GIS, remote sensing, geodatabase systems, web mapping, and software development with our expertise in science, engineering, environment, and geography. We have focused and applied this knowledge to over 120 projects across Canada, US, and Europe providing leadership, management, and technical solutions to meet our clients' needs.
Our name 4DM is more than a name. 4DM represents the dimensional nature of geographic data and the way we apply the technology. The 4 "D's" represents the four dimensions of latitude, longitude, elevation, and time, while the 4 "M's" represents how we utilize the technology for measuring, mapping, monitoring, and modeling.
Background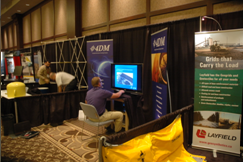 4DM is a private Canadian company incorporated in Ontario and has been conducting business operations since 1999. The company originated from an inspired vision of applying remote sensing technology with mapping technologies to create visualized solutions to meet the growing need for location-based information. 4DM established its business operations from early research funding provided by the Ontario Ministry of Energy and Science. 4DM grew from instrumental support by scientists and researchers involved with the Centre for Research in Earth and Space Technology (CRESTech). CRESTech provided incubation space and mentoring support during the early years of company. Today 4DM has grown into its own location and expanded its business offerings from its downtown Toronto location.
Customers
Over the years our solutions have been used by many companies and organizations:
Private Firms

Airborne Imaging
Black & Veatch
AECOM
URS Canada
ESRI Canada
President's Choice
Cumus Insurance
DMTI Spatial
Hatch Mott McDonald
HDR Inc.
Malone Given Parsons Ltd.

Entergy Inc
Miller Paving Group
EBC Canada
Conestoga Rovers and Associates
Research Management Group
RWDI
SENES Consulting Ltd.
Greenland Consulting Engineers Ltd.
Morrison Hershfield
SunEdison
IBI Group

Public and Non-Governmental Organizations

Toronto Community Housing Corporation
Ontario Power Generation
Hydro One Networks Inc.

Nuclear Waste Management Organization
Mackenzie Valley Environmental Review Board

Research Centers and Universities

EDF Renewable Energy
Center for Energy Advancement through Technological Innovation (CEATI)
Center For Research into Earth and Space Technology (CRESTech)
Leading Operational Observations and Knowledge for the North (LOOKNorth)

National Research Council – IRAP
Laurentian University
York University
GeoConnections

Governments

Environment Canada
Ontario Ministry of Natural Resources
Ontario Ministry of Transportation
Natural Resources Canada
Fisheries and Oceans Canada
Newfoundland and Labrador Municipal Affairs
Health Canada
Ontario Ministry of Health and Long Term Care
US Environmental Protection Agency (EPA)
International Atomic Energy Agency

Canadian Nuclear Safety Commission
Toronto Region Conservation Authority
Ganaraska Conservation Authority
Halton Regional Municipality
York Regional Municipality
Town of Smith Falls
City of Toronto
City of Oshawa
Town of Erin
City of Surrey