Services
4DM provides a range of services that is typically divided into consulting projects or service based agreements. Our services are built on using and applying geospatial information technology within the sectors of energy, environment, natural resources, infrastructure, and social-economics. We provide solutions to our clients in 5 target areas as shown and describe below: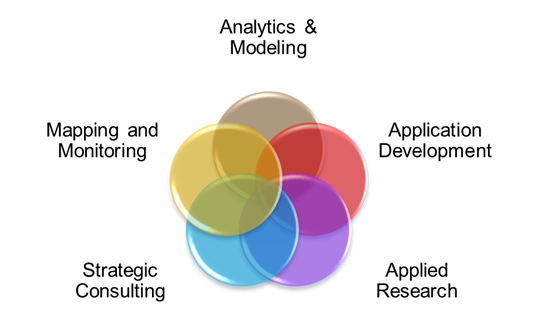 Strategic Consulting
We provide clients with an understanding of how to apply geospatial technology to meet their needs. Examples include business analysis, technical direction, technical evaluation, development of standards, and gathering the user needs requirements of clients.
Mapping and Monitoring
Our focus is on building mapping data of area of interest, generating cartographic maps for 2D/3D/4D visualization, extracting information from imagery and collecting field data to support projects. Technologies include LiDAR, Multispectral Satellite Imagery, Thermal Imagery and Microwave data.
Analytics and Modeling
We conduct statistical and numerical analysis of the data such as geostatistics, constraints analysis, routing, zonal analysis, and spatial modeling to derive our clients solutions using Geographic Information Systems (GIS), and statistical and numerical packages and tools.
Application Development
Building on the available data, we are able to develop custom decision support applications and systems as desktop or web based solutions. This will include system design, software architecture, prototyping, and software development.
Applied Research
We support clients with innovative solutions and new methodologies through algorithm development, information extraction, and decision support systems to enhance current services or new product development
Examples of Services
We apply our services in the following target market areas. Examples of the types of applications are listed below:
Energy

Renewable Energy Siting
Transmission Line Routing
Viewshed Analysis
Solar Analysis
Wind Forecasting
Hydrotechnical Modeling – Hydraulics and Hydrology
Digital Terrain Assembly and Analysis

Environment

Flood Forecasting Services
Water Quantity and Quality Mapping
Environmental Assessment Support
Land Cover Mapping
Climate Analysis
Erosion Assessment

Infrastructure

Snow Transport Modeling and Analysis
Design of Snow Barrier Treatments
Dam Safety Studies
Infrastructure 3D Mapping
Transportation Mapping for Mobility

Natural Resources

Geological Mapping Using Remote Sensing
Natural Hazard Assessment
Geophysical Mapping Support
Forest Cover Mapping
Hydro-Enforcement and Hydro-flattening of aerial LiDAR datasets

Social – Economic

Property Rights Mapping
Cultural Heritage Mapping
Trade Area Analysis
Asset Mapping
Environmental Health
Geodemographics
Coastal Surveillance using Remote Sensing